HOW WELL DOES THE IGUANA RESIST OVER TIME?
The first concern we might have is all this mechanism in a salty environment – will it rust quickly? The boat is made from GRP. The big frame of the landing gear is made of 5083 marine-grade aluminium for applications that need superlative corrosion resistance in hostile environments. 5083 is the strongest non-heat treatable aluminium alloy, maintains its strength even after welding and is finished in a protective epoxy paint. Finally, the bearings, rams and all other metal parts are made of 316 stainless-steel, this is the highest standard for marine use.
WHAT ARE THE BOAT CAPACITIES?
The Iguana's capability is amazing. With a long, wide rubber track, the ground pressure is equivalent to an 80 kg human. It copes better with soft mud than a human on foot. This is 16 times better than a very good 4×4 vehicle and is the same on shingle. The track even grips with seaweed on it; it works perfectly. With the boat being 1.2m high on the landing gear, waves of this size just flow underneath. For many boats, land is a hazard, for an Iguana amphibious boat land is a shelter. Some wonder whether the boat is strong enough to bang in the waves at landing? The landing gear is designed to withstand up to 16 tons of load so it can withstand significant impact. It has been successfully tested from a 2m high drop. Landing is always very smooth because the operation is like an airplane, you just follow the waves and engage the landing gear before landing.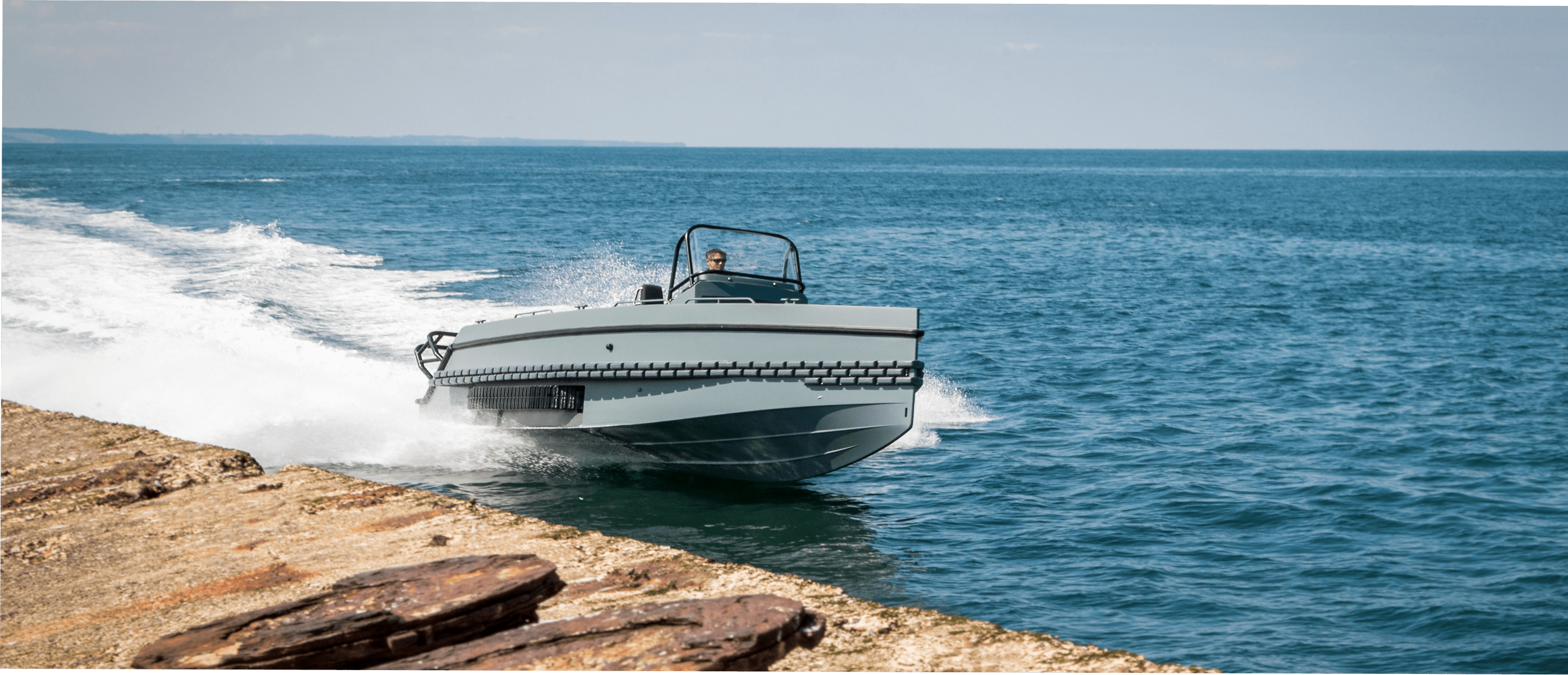 HOW STEEP CAN IT CLIMB?
It is true that looking from the outside the boat can look unbalanced. But the centre of gravity is perfectly positioned. The front of the boat is very light and empty as opposed to the back that carries the engines, fuel tank and landing gear. It has been tested with more than 11 persons standing at the front and the balance is maintained. Another great element for balance is the centre of gravity being only 1.3m away from the ground with a 2.2m width between the legs. It is balanced like a sports car. All these elements make the Iguana capable of climbing safely angles of up to 40% with all passengers and even greater in certain situations.
HOW WELL DOES IT NAVIGATE?
One would think the weight and tracks would compromise the boat performance. Antoine Brugidou, the founder of Iguana, and Antoine Fritsch, the designer have come up with a simple yet impressive concept. The landing gear has the shape of the hull when folded, cleverly finishing the hull to perfection, just like an airplane undercarriage. The performance is over industry average.